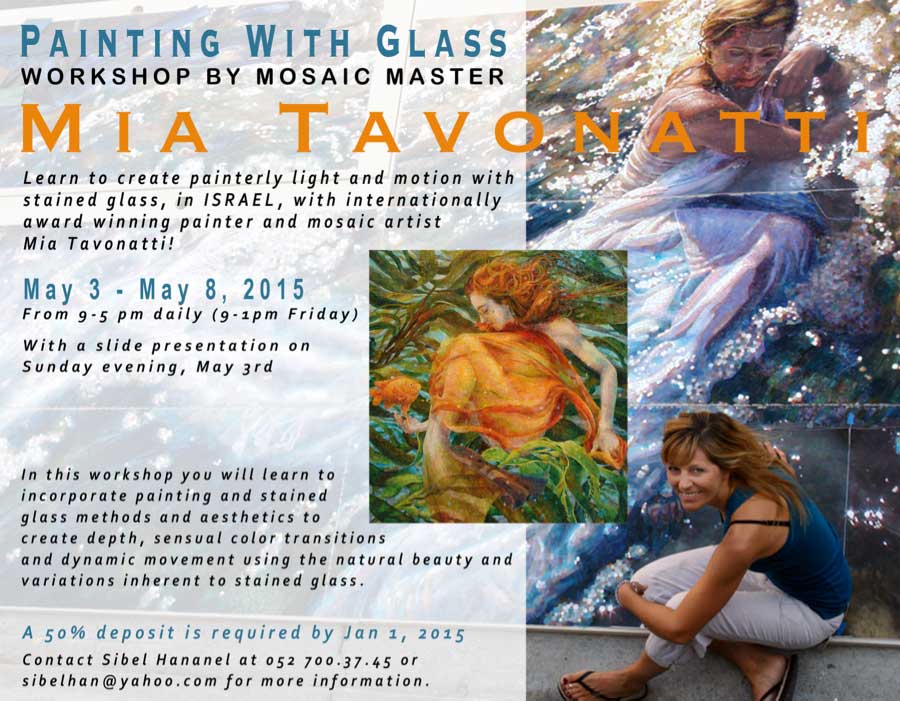 Israel Workshop 2
Announcing the international workshop of mosaic master Mia Tavonatti – "Painting With Glass" to be held in Israel!
The workshop will be in the city of Maskeret Batia, which is conveniently located only 20 minutes by car from the center of Tel Aviv and 30 minutes from Jerusalem.
Workshop Details
Subject: Mia Tavonatti will be teaching how to create painterly light and motion with stained glass.
Location:  Maskeret Batia
Dates:  May 3 – Friday, May 8, 2015 – 5.5 days
Hours:  9am to 5pm daily, 9am to 1pm Friday
Materials:  Stained Glass, glue, substrate and all other materials are included in the workshop fee.
Design:  Will be provided by Mia Tavonatti
Work Size:  Around 25x25cm (The goal is to finish the mosaic work over the course of the workshop.)
Minimum Experience:  Must have experience working with stained glass, and know how to use glass cutters and nippers.
Full Workshop Fee:  $1950
Workshop Includes
•  Welcoming dinner at local, traditional Israeli restaurant
•  5 1/2 day workshop
•  Stained glass and other materials (excluding your tools).
•  Slideshow presentation and discussion of Mia's life and career as a professional painter / mosaic artist / teacher of twenty-five years. • She will also discuss examples of her work in relationship to design and color concepts she will be focusing on in this workshop.
•  7 nights (double occupancy), includes breakfast, non smoking rooms. (single occupancy rates may be available for additional cost)
A reduced fee is available for those who do not need hotel accommodations and who opt out of the welcome dinner.
Contact Sibel Hananel or Mia Tavonatti for further information.
Email: [email protected] or [email protected]