Over the last twenty-five years, Mia has crafted an award winning, diverse career in art that is inspired by a life of adventure, beauty and faith. Her paintings and glass mosaics can be found in public, private, institutional and corporate collections worldwide from Marriott Resorts and Harrah's Casinos to the United States Air Force.
Mia has been known to paint with glass…Her intricate stained glass mosaics weave her experience as a painter with her love of high renaissance glass mosaics. She has created numerous mosaics for churches, restaurants, residences, corporations and public works projects throughout the US over the last sixteen years. Mia's monumental glass mosaics Svelata and the Crucifixion of Christ garneted her consecutive 2nd and 1st Place awards at Artprize, the world's largest art completion, in 2010 and 2011, exposing her to an even wider audience.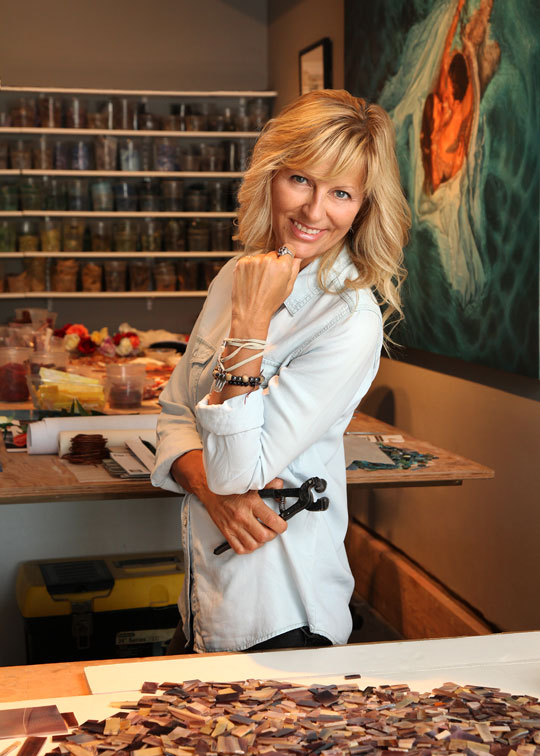 In 2006 Mia was honored with an invitation to join the Air Force Arts Program in Washington, an elite group of artists challenged with the task of recording history through art. In exchange for each mission she is sent on with the Air Force, Mia creates a painting that becomes part of the US Air Force permanent collection, for inclusion in rotating exhibitions between various institutions including the Pentagon, Smithsonian and National Airspace Museum.
A year later, Mia was off to live in Italy, where thousands of people from thirty countries witnessed the European solo debut of her project Svelata, a monumental series of oil paintings on canvas, at the ancient Museo Arsenale in Amalfi. Then, in 2008, Mia was one of twenty artists chosen worldwide for an exhibition in Acquasparta, Italy, where she was awarded "Best of Show". Mia has since returned to California and has formed the Svelata Foundation and is currently producing the Power of Words Project, a national humanitarian mural campaign.
Mia earned her BFA and MFA from California State University Long Beach, where she majored in Illustration. Mia has studied in Paris at the Sorbonne, Parsons School of Design, in the studio of renowned French impressionist Monsieur Relange', and in Italy and Greece numerous times with such renowned international painters as Dominick Cretara, Johnny Cariachi, and Demitri Mitsanas.
Over her long career, Mia has exhibited extensively in the US, Italy, France and Greece. Including having her work chosen annual award shows at the American Museum of Illustration in New York and the Los Angeles Society of Illustrators numerous times.
Earlier in her career, Mia worked as an Illustrator, creating the art for over twenty books, nine of which she has also authored, and covers for sixty plus young adult, children's and art instructional books for publishers such as Walter Foster, Harcourt Brace, Simon Shuster and Troll Associates. Her book Cramped Quarters was nominated for the Golden Kite Award by the Children's Book Writers and Illustrators Society, while her numerous art instructional books have been published in over 20 countries. Mia has also worked on various editorial illustrations for trade and mass-market magazines, and projects for corporations including Lysol, Marriot, Toyota, Tomy Toys, Seagram's, Martha Stewart and Bravo/NBC. Mia's art continues to be used for book covers periodically and she still writes and illustrates art instructional books, and is currently working on releasing a retrospective of her own work.
As a part-time painting and mural instructor at Laguna College of Art + Design in Laguna Beach, California for the past twenty years, Mia and her students have been responsible for the creation of eight public murals.
Mia currently resides in Santa Ana, California.